Central to the religious life of the school is the person of Jesus Christ who came among us 'as one who serves' (Luke 22.27). Our Catholic school is committed to reaching out to help those in need, through charitable outreach initiatives. All outreach activities connect to the person of Jesus Christ and to the sacraments, especially the Eucharist. Drawing on the Catholic Social Teaching of the Church, we have a deep commitment to supporting a range of charitable organisations, families and individuals in need.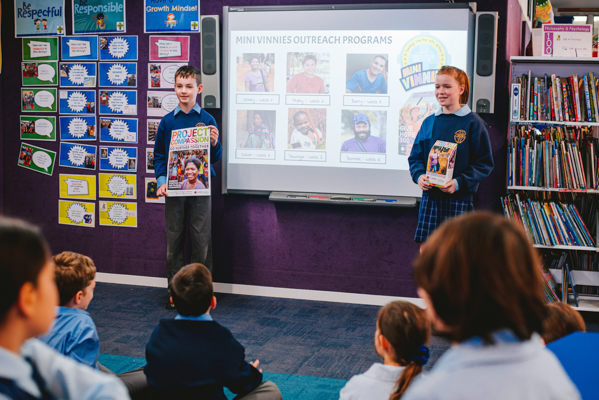 At St Patrick's Catholic Primary School Sutherland, students and families are encouraged to live their faith in action and word through involvement in various outreach opportunities. Our school actively supports a number of organisations and events: Project Compassion, Charitable Works Fund, Catholic Mission and St Vincent de Paul.
We have a close relationship with our local St Vincent De Paul Society through our community's involvement with Night Patrol, Vinnies Winter and Christmas Appeals, and a very active Mini Vinnies group at the school who meet each week to work on projects that both raise awareness and fundraise for various initiatives. Unique to the St Patrick's Community is the very active Parent Outreach Conference who work closely with the SVdP Sutherland Conference to respond to the needs of  those in our area and beyond. 
Our Year 6 students participate in the Pope Francis Award Program, offering service to others within the school and parish community. This program instills in our young people the value of serving others and the benefits to contributing to their school and parish community.
Our Nano Rangers environmental group seeks to address the call to be stewards of Creation and is inspired by the charism of our founder, Nano Nagle, and the Presentation Sisters who call us to be 'walking lightly on the earth.'